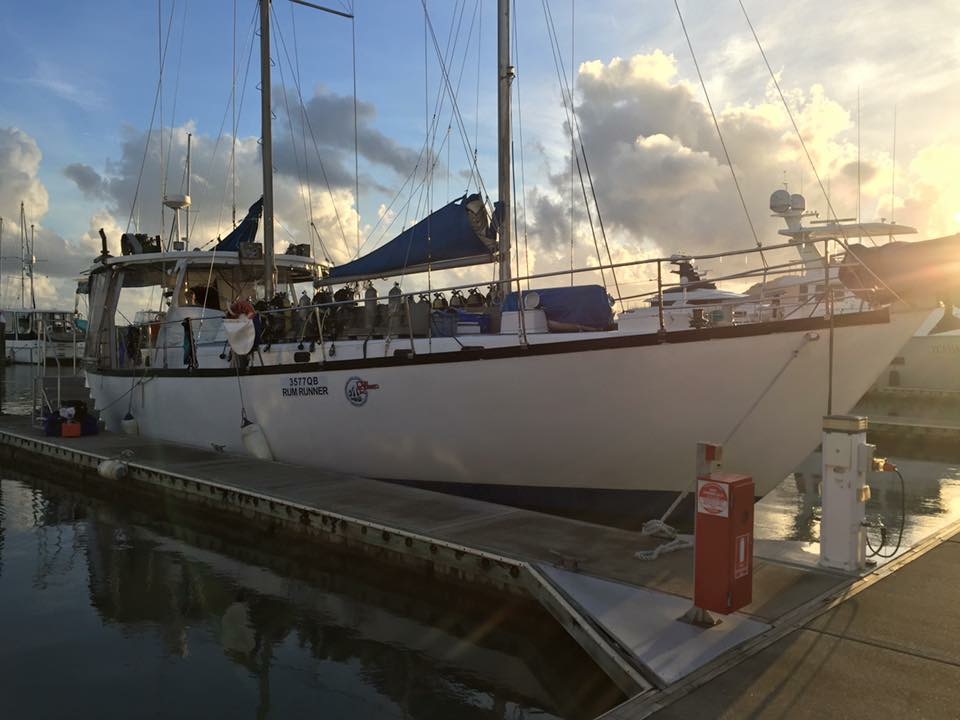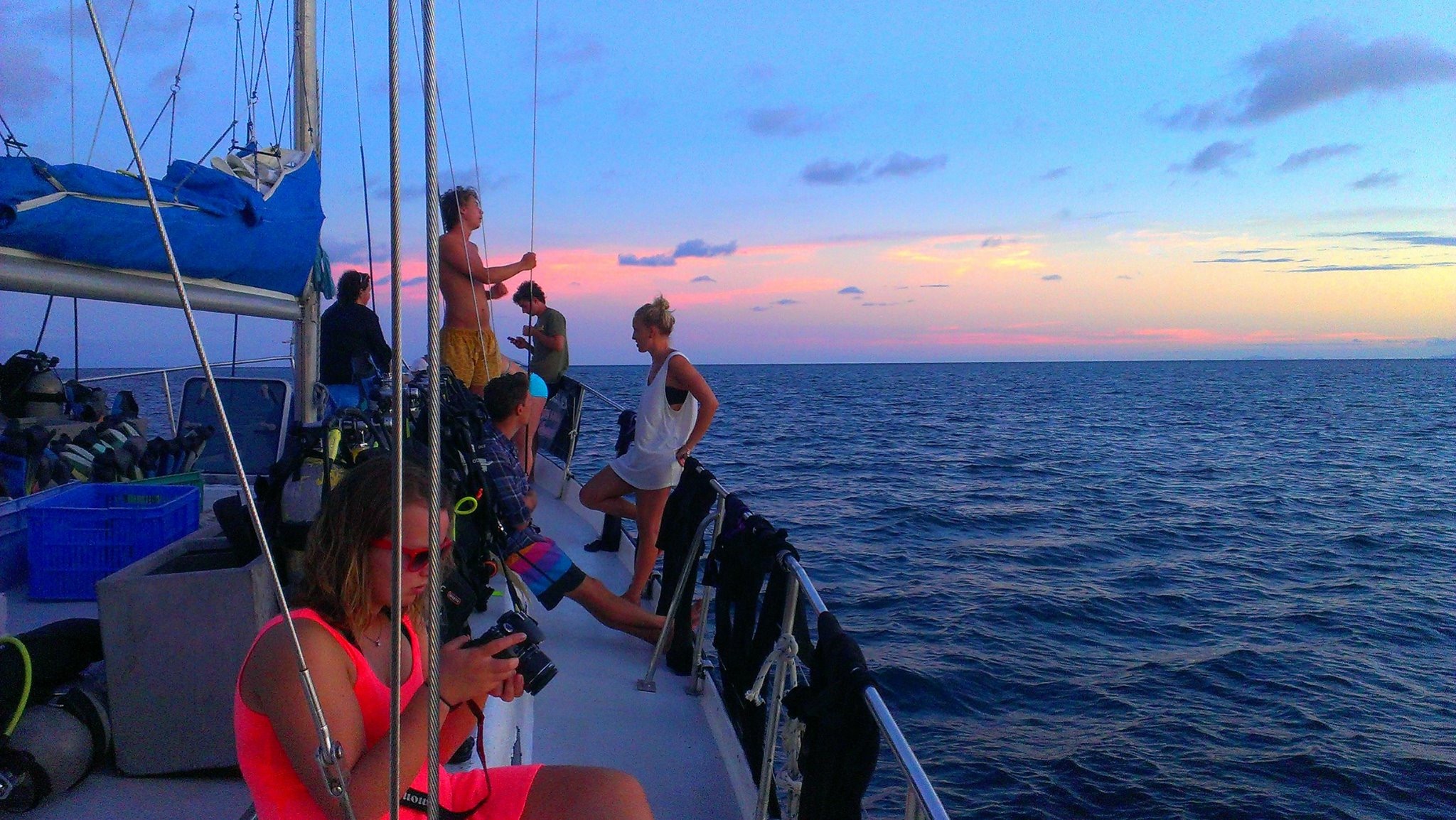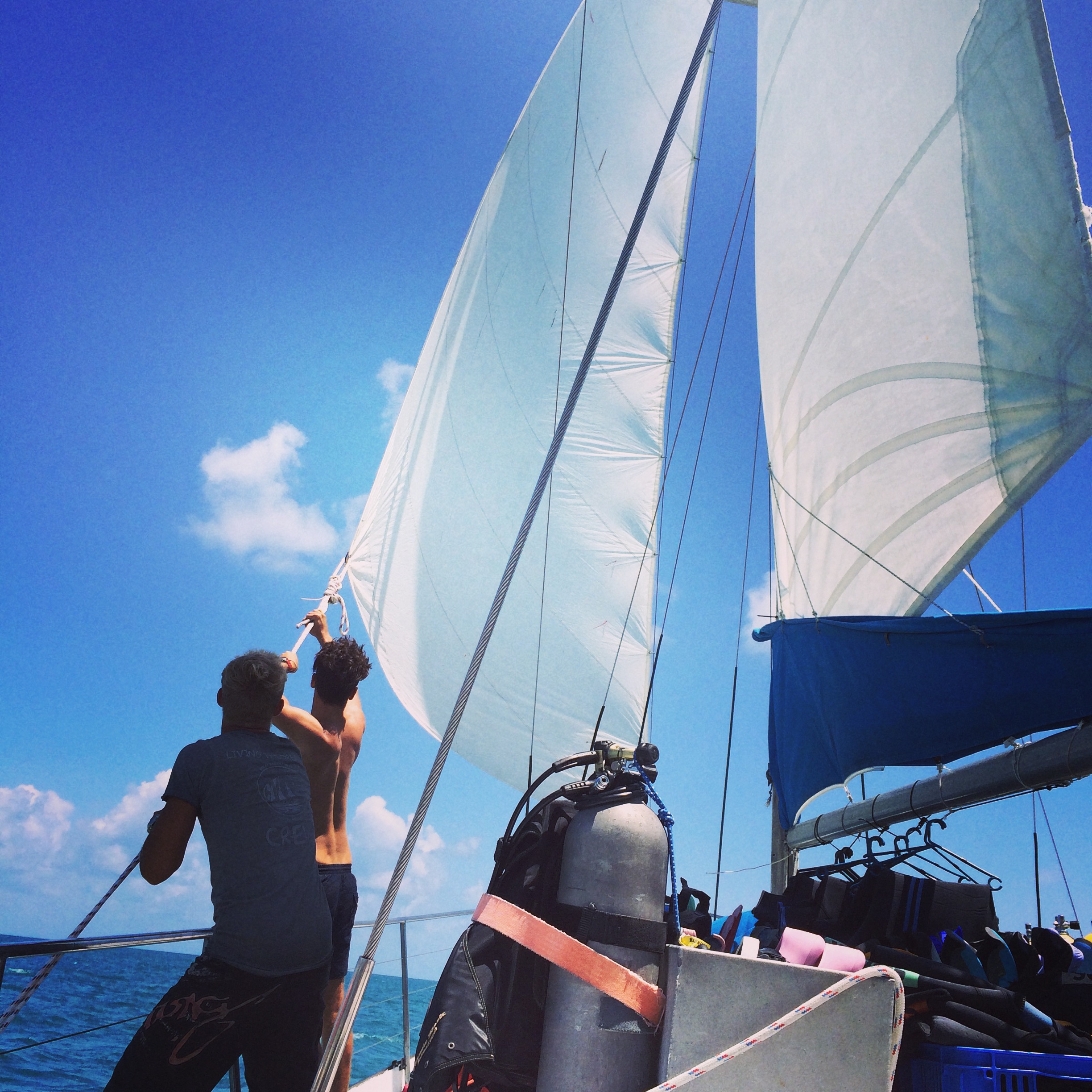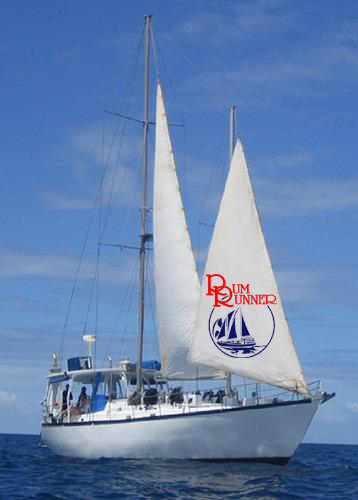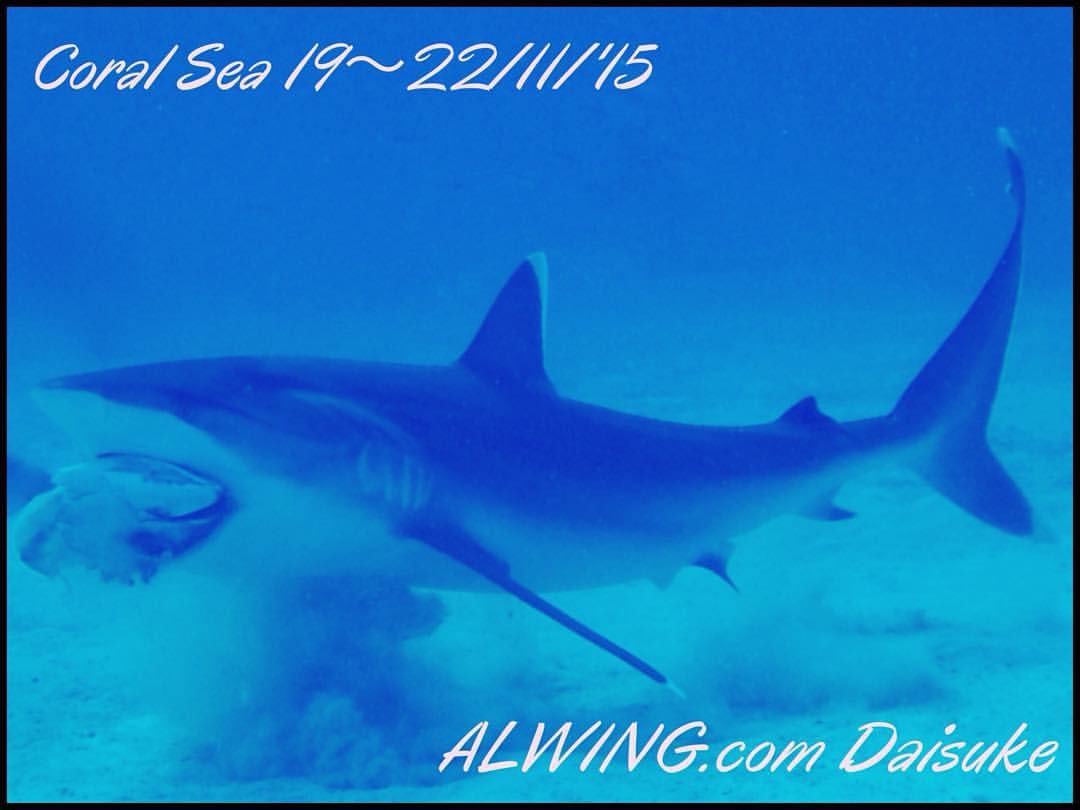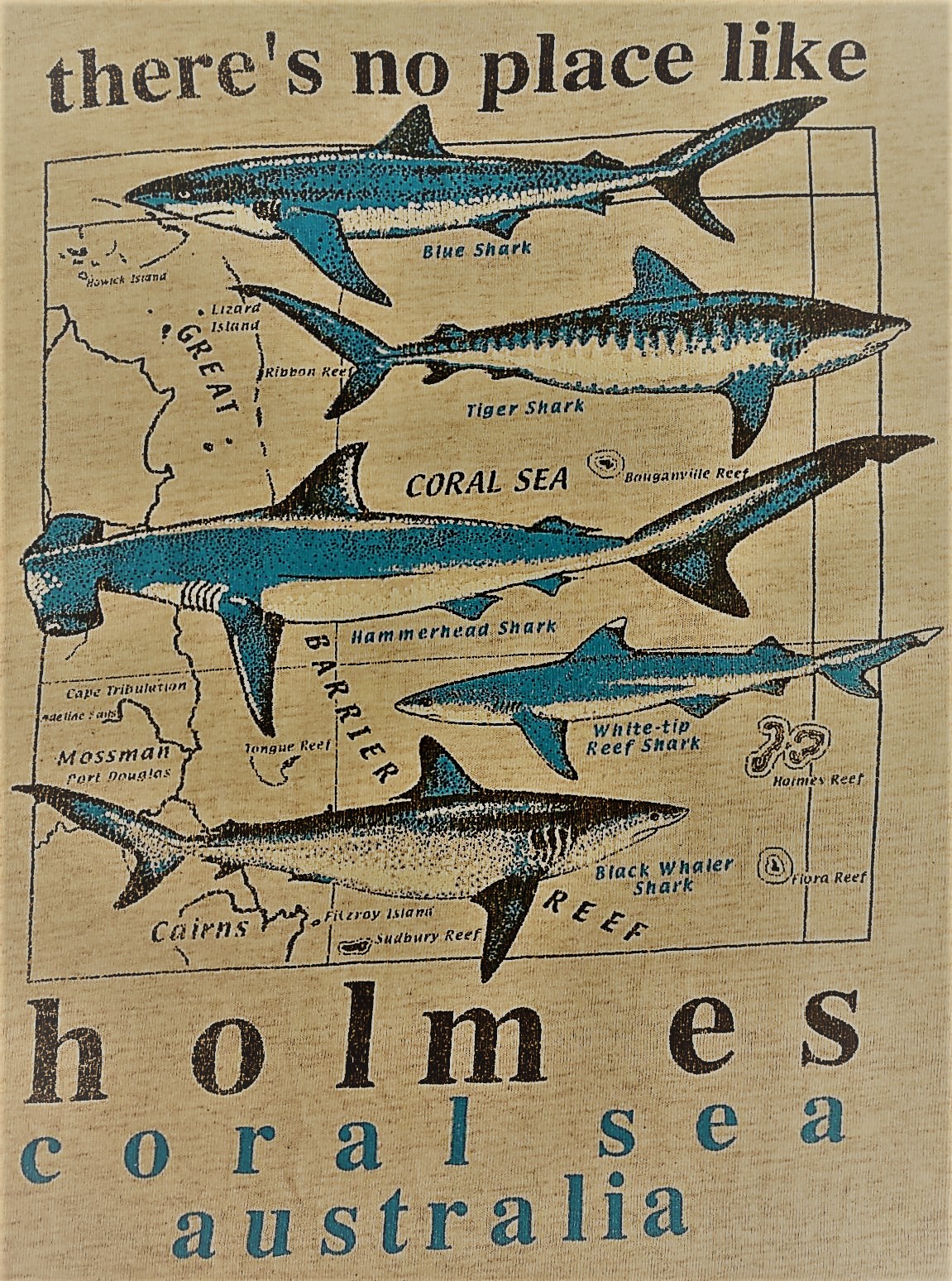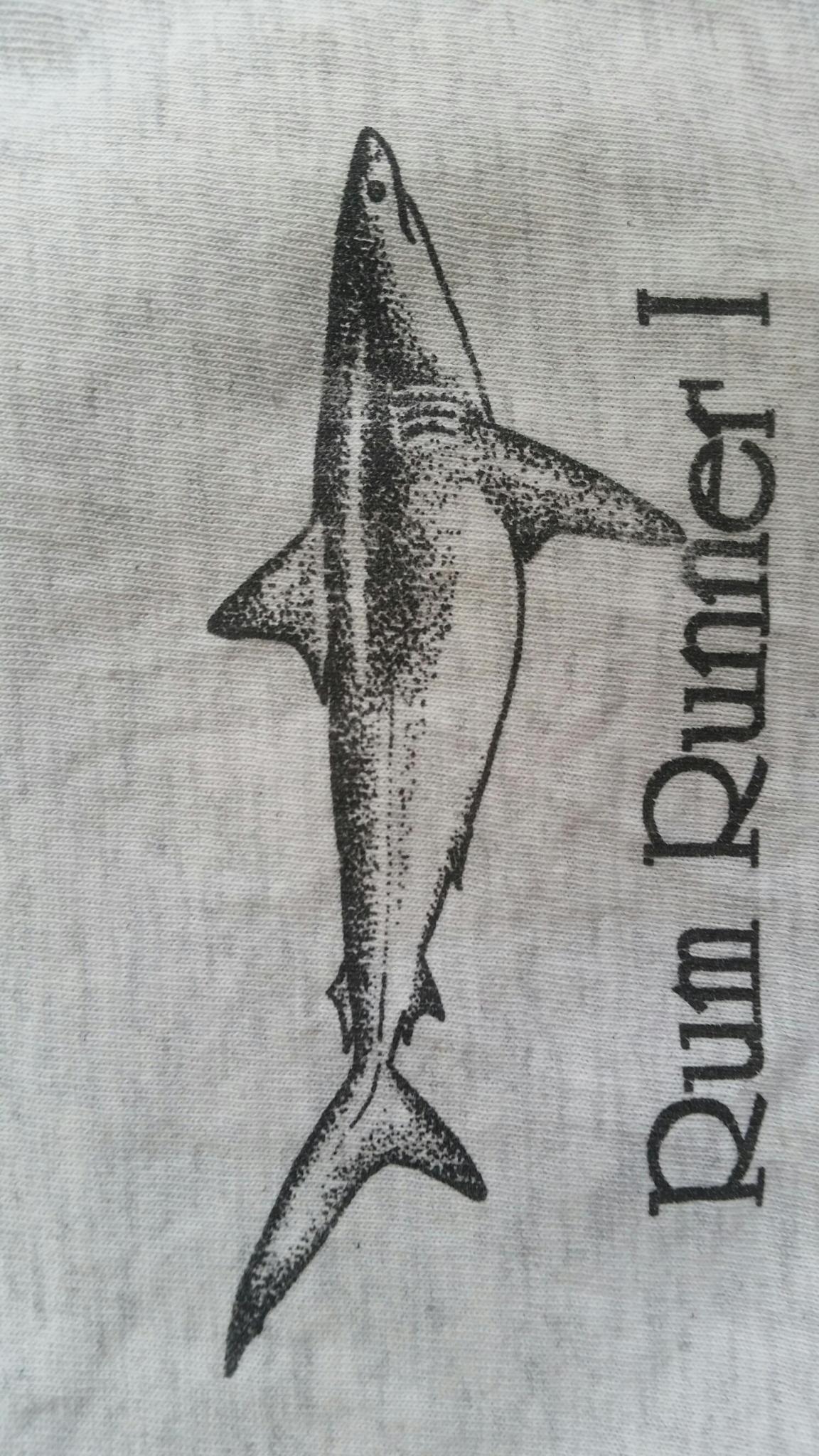 4 Day 3 Night Coral Sea Holmes Reef Shark Diving Expedition
Rum Runner - Cairns Discount Diving Pty Ltd
RumRunner - Coral Sea Shark Diving Expeditions
This trip is aboard S.V Rum Runner, a 66 foot Mono Hull Sailboat with a maximum of 16 divers plus crew. It is for 3 nights / 3 days, and allows 8 - 9 Holmes Reef dives, including 1 night dive and a shark feed dive, plus 1 sunrise dive back @ the fabulous Great Barrier Reef on Monday morning.

Boarding Information

Boarding is from Marlin Marina, E finger, Cairns at 4:00 pm Friday, return time 11:00 - 11.30am Monday.
Detailed Trip Itinerary 4-day / 3-night Holmes Reef Shark Diving Expedition

Day 1: Cairns to Holmes Reef. Passengers meet at the company office (Rum Runner - Marlin Marina, E finger) by 4:00pm for an approximate 5:00pm departure. Passengers are briefed as to the itinerary and safety aspects of the trip and boat, and the dive equipment is organized, making it ready for your morning arrival at Holmes Reef. Dinner is served as you sail through Great Barrier Reef and watch the sun setting over the mountains behind Cairns. Guests can relax, have a few social drinks and get to know each other as the boat makes an overnight passage to the Coral Sea. Passengers are welcome to join in, grab a line and hoist a sail alongside the crew. In calm clear weather, the stars over the Coral Sea are an awesome sight.
Day 2: 4 or 5 dives ( i.e. number of dives are dependent upon our arrival time to Holmes Reef). While arriving to Holmes Reef a tropical breakfast is served, then the Dive Instructor will brief everyone on general dive safety and details of the first dive site. Diving will be tailored to suit individual experience levels. If anyone is a bit rusty one of the crew will accompany him or her on their first dive if they wish, guided dives can be arranged if required. It is time for some of the best diving in the world; Sites include Amazing, Nonki, Turtles Graveyard; from shallow coral gardens, isolated pinnacles to caverns, caves and spectacular walls, capped off with a fantastic night dive. Evenings are a relaxed affair, with just a chat and a few drinks on deck while at anchor in the calm water of the company's protected night moorings.
Day 3: 4 dives, including shark feed dive. An invigorating deep dive at our secret Twins; before a hearty breakfast sees the start to a day of diving & exploring. Today's diving includes swim-throughs, caverns and diving the fabulous Abyss, a sheer wall dropping 1000 meters and teeming with life; An ideal adventure for the Advanced diver but still safe and easy for the novice diver. A relaxing lunch break and then off to Predator's Playground, another highlight of the trip. Dive the Amazing Caves before the shark feed; Last Dive:experience the thrill of seeing sharks feeding at Predator's Playground, the shark feed is conducted in a very controlled and safe manner and is in only 9 meters of water.
Now before departing the Coral Sea for an overnight sail to the Great Barrier Reef, finish the day with the a few drinks and dinner going over the photos and videos with your fellow divers.

Day 4: Return to Cairns. As you sail back into the Barrier Reef you can get up early at 5.30am and watch the sunrise (the early sun on the mountains is gorgeous) and get ready for our last dive ..... your bucket list dive on the famous GBR; or you can just sleep in, until you feel like getting up, having breakfast and laying around while the boat sails back into Cairns. Arrive at Cairns at 11.00 am. Later in the evening meet with your new friends, the crew and fellow divers for a night out in Cairns.

About Rum Runner

Started in the early 1990's, SV Rum Runner was sailed to Cairns and refitted to fit 20 divers, out to 200 Nm from the Coast survey. She is still the first Coral Sea diving vessel operation from Cairns.

The Coral Sea Diving Company took over operation September 2000.
In late 2005, Rum Runner was brought by Cairns Discount Diving Pty Ltd, and put back into service for the overnight GBR market (Great Barrier Reef - Cairns section) , and has been available for Charter's to the Coral Sea Reefs and GBR Ribbon Reefs for the past 12 years. Captain Richard and PADI Course Director Masa have worked these reefs since 1995, both working on Rum Runner when she did regular runs to Holmes Reef, and together for the past 12 years on Charters.
The Boat

The Rum Runner is a 66-foot motor sailing schooner. Built in 1984, and with a nearly indestructible fiberglass hull,

The boat will accommodate up to 16 divers in twin and 4-share cabins, with the berths in each cabin set up single bunk style. As typical for anyone familiar with sailboats, the cabins are not spacious or very private; they are for resting and sleeping only. The common areas include a dining area and both covered and open decks.

Overall, Rum Runner is a comfortable sailboat, well suited for adventurous divers. It is by no means a luxury dive boat. Those seeking privacy and luxury should consider trips on other vessels such as our friends at Mike Ball and Spirit of Freedom.

There are USB and 240V AC outlets for charging cameras, and Hot water in both separate Male and Female Toilet - Shower cubicles.

Coral Sea and Holmes Reef FAQ's

...Good for: Visibility, large animals, small animals, underwater photography...
...Not so good for: wrecks, Non-diving activities, even though snorkelers are encouraged to join us, ..
Holmes Reef is a remote spot in the Coral Sea west of Cairns. It is much further from shore than the Great Barrier Reef and is, along with Osprey Reef and Bougainville, among the Great Barrier Reef's most world-class dive sites. It can only be visited by Australian liveaboards that venture to the Coral Sea, and only when weather conditions permit.

Holmes Reef is named after the young Captain Henry Holmes whose ship, the Thomasine, sank here en route to Hong Kong at a time when the reef was uncharted. Happily Holmes and most of his crew survived. They would certainly not have appreciated the splendour of the undersea world on these reefs, which would come to immortalise their struggle.
The diving in this, one of Australia's remotest reefs, is highly rated with excellent visibility and a wide range of topography. You can expect shallow reefs with silvertip sharks and grey reef sharks, wall dives, caves, and some of the best night dives the barrier reef has to offer. Caverns are covered in bright and colourful soft corals, tall bommies are patrolled by an impressive array of sharks, and there are large archway swim throughs.
History
3.5 million years Holmes Reef was similar in coral coverage of today's very magnificent Great Barrier Reef. When the GBR was being formed 300,000 years ago, the Coral Sea Reefs were an important source of Coral for the GBR, both during the the GBR formation and during sea level lowering.

Holmes Reef is known for its array of large pelagic life as well as small creatures including myriad crustaceans. So despite weather and bleaching events throughout its history, this Australian reef appears resilient, boasting an impressive number of both hard and soft corals.
Technically, the Coral Sea reefs and Islands are not a part of the Great Barrier Reef; they lie from 60 - 400 km outside of the GBR boundaries. Yet, even though both are different ecosystems, they form the largest mega system of corals found on the planet. Of the 2500 species corals in the world, 1400 are found in the nutrient rich waters of the GBR and Queensland coast, and with a few hundred of these found in the Coral Sea reefs.

Of the corals remaining in the Coral Sea, it is of the more robust and encrusting types able to survive the warm nutrient poor waters of the Pacific ocean. And even though the GBR is now under tremendous stresses from climate change, it is still the GBR that offers snorkelers and divers the most diverse array of coral formations and small tropical fish species on the planet, which can be also added to your itinerary on our famous 2 Day 1 Night GBR liveaboard tours to Thetford Reef departing Tuesdays and Thursdays mornings. Combine trips for up to 16 dives over 5 days.
Dive Site Descriptions

Amazing - This site has a difficult name to live up to, but as a shallow wall teeming with sharks, soft corals and swim-throughs, it somehow manages it! You can expect to see grey reef sharks, silvertips and white tips numbering in the dozens.
The wall itself is home to a number of large cavernous archways and swim-throughs between around 10 and 20m depth. Many are easily penetrated despite the thick bushy covering of soft corals. Within the caves and caverns look out for lots of lobsters and other crustaceans in the nooks and crannies, where a keen eye might also spot a stubbytail eel. Meanwhile, as you are poking around in the recesses, turtles and potato cod are always likely to put in an appearance, cruising by, casting a curious glance or two in your direction.
Where the wall gives way to the sea floor the white sands slope away to a flat bottom where innumerable garden eels crane their bodies vertically in the quest for a passing snack.
Nonki Bommie - This is a big bommie, or pinnacle, that rises from 35 m depth to 4m from the surface and has split in 2, creating a canyon between the 2 fingers. The crack is full of vibrant and huge orange and yellow sea fans and all sort of soft corals.

With your boat moored to the top of the bommie you will start this dive by sinking down to near the base and working your way back up. You can encounter big-eye trevally at both the tip and base of the bommie. Conditions are usually calm, making this one of the easier dives at Holmes Reef.
Look out for larger creatures like dogtooth tuna, turtles, grey reef sharks, silvertips and occasionally even hammerheads. Smaller delights include clownfish, nudibranchs, long-nose hawkfish, pyramid butterflyfish, blackspot angelfish and fairy basslets and damselfish particularly near the tip.

The Abyss - Unsurprisingly this Australia dive site features a deep drop-off. This steep wall plummets to mysterious dark depths of over 1km! Sticking to the sun-drenched shallows you can enjoy the myriad reef life on a very pleasant drift dive.

The Abyss is among the most popular dive sites of Holmes Reef although it can only be dived in relatively calm weather. Provided the conditions permit, you will be in for a treat, drifting along past a rich wall with hard and soft corals galore as well as giant clams in rude health.
Larger species enjoying the current and the nutrient-rich water are grey reef sharks (or grey whalers as they are often called by Aussies), white tip reef sharks, mackerel and sweetlips. There are also plenty of small things to catch your eye while drifting past, including a range of nudibranchs, seemingly oblivious to the passing current.

Cathedral - Another Holmes Reef dive site with a rather dramatic name is the impressive Cathedral. Similar in profile to The Abyss, the wall here sinks down several hundred metres to the sea floor. Impressive hard and soft corals are matched by the meaty pelagic encounters likely here.

You can expect the usual Holmes reef encounters with grey reef sharks, white tip reef sharks, and turtles as well as dog tooth tuna and potato cod. Also likely here are Napoleon wrasses, known in this part of the world as Maori wrasses. Golden anthias feature at the top of the wall, which is remarkable considering Holmes reef was the first place in Australia this species was sighted. Normally they are found in the central Pacific south of Hawaii.
Turtles Graveyard - No prizes for guessing the creature that this site promises more than any other Holmes reef dive site. Different in profile to some of the other sites here, Turtles is a series of shallow bommies on the edge of a reef.

The sandy floor from which the bommies rise, is home to garden eels and resting white tip reef sharks. Potato cod and turtles are on the menu especially in the shallower sections. There is also plenty to see in terms of macro life and around the reef. Crustaceans abound in this site which is 1 of several here that make great night dives (illuminated by flashlight fish). Cleaner shrimp, Saron shrimp and Bumble Bee squat lobsters are among the more interesting residents. Excellent visibility is common here making Turtle a favourite site for underwater photographers.
Twins - this is Rum Runners own secret site, few have dived and explored here, with two large bommies sitting right off the edge of the Holmes Reef dropoff. Not going to tell you too much about them but if you what to get a photo of yourself diving beside 3m tall sea fans.......
Diving Season and when to Dive Holmes Reef
Live-aboard diving cruises to the Coral Sea are in high demand and can fill up quickly. We recommend you plan to book well in advance.
Holmes Reef is only visited by Rum Runner on a regular schedule all year round. Holmes Reef is subject to the same weather influences as the Great Barrier Reef although variations do occur. As such Homes Reef is something of a fair weather destination. Due to its remote location, Holmes Reef is accessible only by special purpose live-aboard only.
Travelling at night through the Pacific Ocean can get quite rough, depending in the wind speeds and swell hights, even for the most hardiest of sailors. Good conditions can always be had once at anchor behind the reefs of Holmes, and the return trip back to the Great Barrier Reef is with a following sea and quite the pleasant sail down wind..
Rum Runner being the only Coral Sea Sailing Yacht, we can almost always guarantee departure except in the most extreme of weather systems. Sea Sickness medications are highly recommended on any trip departing Cairns.
Since visiting Holmes Reef is dependent on weather conditions, we will make the call in the early stages of the week before your trip as to what to expect from the trip out.
Reef Summary

Depth: 5 - >100m
Visibility: 30 - 50m (Rum Runner has had 100m during the cooler months of July/August)
Currents: Normally gentle, can be strong
Surface conditions: Can be choppy, but good shelterage.
Water temperature: 23 - 30°C
Experience level: Beginner - advanced
Number of dive sites: 10+
Distance: ~120 Nm east of Cairns
Trip Prices and Rates
From $795.00, BYO (bringing your own) diving gear.
Included: All 9 - 10 dives, Tanks, weights, air fills; All bedding linen, All meals, Light refreshments provided after dives Coffee, tea, hot chocolate, BYO alcohol and other drinks, Tap drinking water.
All prices are in AUD Dollars.
Add on EXTRAS
Bar Purchases - Bottled water, Coke, etc.
Snorkeler / Free Diver $90
extra inclusions: 3 Introductory dives including the Shark Feed dive, All snorkelling gear and wetsuits.
Full Gear Hire $140

extra inclusions: BCD, Regulator with computer, wetsuit, plus any other snorkel gear as required

Certified Open Water Diver Gear Package $220
extra Inclusions: Full Gear hire including computer, PADI Advanced Open Water Diver Course with 5 guided dives.
Rum Runner price is inclusive of all taxes and fuel levies - no more to pay.

Email or Call Captain Richard for further details about this special expedition to the amazing Coral Sea.

Friday departures might not always be available every week online, either due to demand, prior bookings for the 2 Day / 1 night GBR weekend tours, or other Ribbon Reef Charter scheduling.

If due to demand, or you have a large group of divers interested, more private Charter dates can be organised to suit.
+61740411054
+61429638744